Background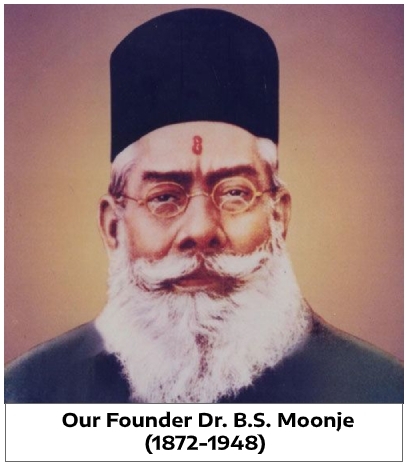 Dr. Balakrishna Shivram Moonje a renowned personality and a man of versatile character born on 12th December 1876.Though doctor by profession, Dr.Moonje was well versed in the Shastras and active participant in politics. Dr.Moonje was an active member of the society widely known as "Dharmveer". Dr. Moonje participated in the Boer War (Africa) in 1899, actively contributed in various movements like 'Simon Commission'. Budget provision for defense, 'Social Reforms'.
Dr. Moonje deeply inspired with a touch of motherland and Dec 1872 at Bilaspur (Madhya Pradesh) spent his early life and did his schooling at Bilaspur and Raipur. Further, Dr. Moonje studied medicine from Grant Medical college , Mumbai and attained a doctorate degree in medicine. Acknowledged the need of its awakening among youth led towards the establishment of 'Central Hindu Military Education Society' at Nashik in 1935. The society is a torchbearer of Dr. Moonje's aim of Indenisation of army (Indian Defense) through directing our youth towards Armed forces and civil services.
C.H.M.E. Society is constantly working on the norms laid by late by Dr. Moonje several high profile defense officers are the outcome of Bhonsala Military School. The society is currently running many units under one umbrella parting education from Pre-primary up to Post Graduate level. The units are - Bhonsala Military college, Bhonsala Military School, Bhonsala Military School girls, Dr. Moonje Institute of Management, Vidya Prabodhini Prashala, Shishu vihar and Balak Mandir and Shishu Ranjan.
School History
C.H.M.E. Society was founded by Dr. B.S. Moonje with the dream to motivate traditional values of honesty, integrity and to teach military education to inculcate moral values towards society and nation. The motto behind giving the military education was to serve the nation in all aspects and to develop personality of students with self discipline, motivation to contribute for global changes which are happening in and around.
Later on with the good response and better future prospects it was decided to have a day school along with military school. The English medium and Marathi medium primary section with the name "Shishu Vihar and Balak Mandir" was started in the year June 1985. Due to increase in strength of students the school was divided into two shifts. At present total strength is 789 in English medium and 790 in Marathi Medium. The school is committed to give better citizen and good human being through our educational process.
English Medium Students Strength for Acadmic Year 2019-2020 - 779.
Year of Establishment : 27th Aug. 1987.
Affiliated to : Maharashtra Education
Board
.